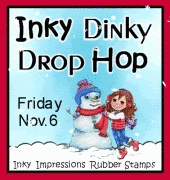 Hello Everyone, I am so excited today!!!! It's time for the "Inky Dinky Drop Hop". I just know you all will love these sweet new images. We have 6 new images in this release and we also have a fun and new Inky product...........Inky Dinky Drops. Inky Dinky Drops come in over 30 colors and are just amazing to use on your projects as an accent. Use them as a flower center, use them on the edges of your card, or use them with an an oval/circle and add an INKY DINKY DROP to every scalloped edge. Either way you use them.... they are really a nice accent to any card or project!

Also I wanted to let everyone know that if you join the Inky Impressions Rubber Stamps Yahoo Group you will receive 10% off your orders. We have a lot of fun things planned over there, come check it out HERE.
I am offering a prize for one lucky winner at the end of the hop. Make sure you stop by the wonderful Inkette's Blogs and leave them a comment, we will draw the winner randomly from one of our Inspirational Inkettes Blogs. The hop ends on November 13th and the winner will be announced on Saturday November 14th.
I can't wait for you to see the wonderful cards the Inspirational Inkettes have made with these new products. Your first stop on the hop is our very talented JENN.